Dominosteine are german christmas sweets. Normally they consist of three layers. On top there is a fruit gelee, no idea what flavour. In the middle there is marzipan and the bottom is gingerbread. And everything ist covered in chocolate. I prefer the dark chocolate version, because it is not so sweet.
Because I don't like the gingerbread-base, I left it out in my version. It consists of two layers of quince cheese (membrillo) and one layer of marzipan in the middle. For this purpose the quince cheese has to be quite thin, so this time I spread it on a baking tray 3-4 mm thick. You can find the quince cheese recipe here.
ingredients
quince cheese, about 20 x 30 cm, 3-4 mm thick
100 g marzipan
50 g icing sugar
1 Tbsp rose water
about 170 g dark chocolate coating
Knead the marzipan with the icing sugar and the rose water into a homogeneous paste.
Break the chocolate for the coating into pieces and start melting it in a water bath. But be careful not to let it get to warm. This seems to be the problem with my coating, it gets white marks.
Spread the marzipan evenly on the quince cheese, then cut it into strips of 15 mm. Cut again into quarters. Press two pieces with the marzipan-sides gently together.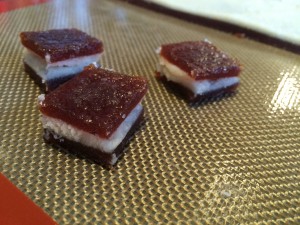 Now you are almost finished. Use a brush to coat on all sides except the bottom with the chocolate. Leave to dry, then turn over and coat the bottom and any left out parts.
I think after one or two days they taste even better.