A few years ago a gas grill entered my live and from this moment I actually enjoyed having a barbecue.
No more annoying waiting for the grill to be hot enough. In the meantime out of despair you eat plenty of bread, salad or whatever there is and as soon as you actually can start with the grilling you are already full.
And afterwards you have to get rid of the ashes, but first you have to wait for hours until it is cool enough to be discarded. When this eventually happens, I've for sure forgotten, that I have to do this.
Before the next barbeue: BIG dissapointment.
But thanks to the gasgrill, all of this is no longer happening.
Hey, I am hungry, and I am in a mood for a little BBQ.
No Problem, let's turn on the grill, brush a little oil on the vegetables and there you go.
My mother always made the most delicious grilled vegetables, accompanied by potatoes and onions wrapped in aluminiumfoil and cooked in the fervency.
Let's start!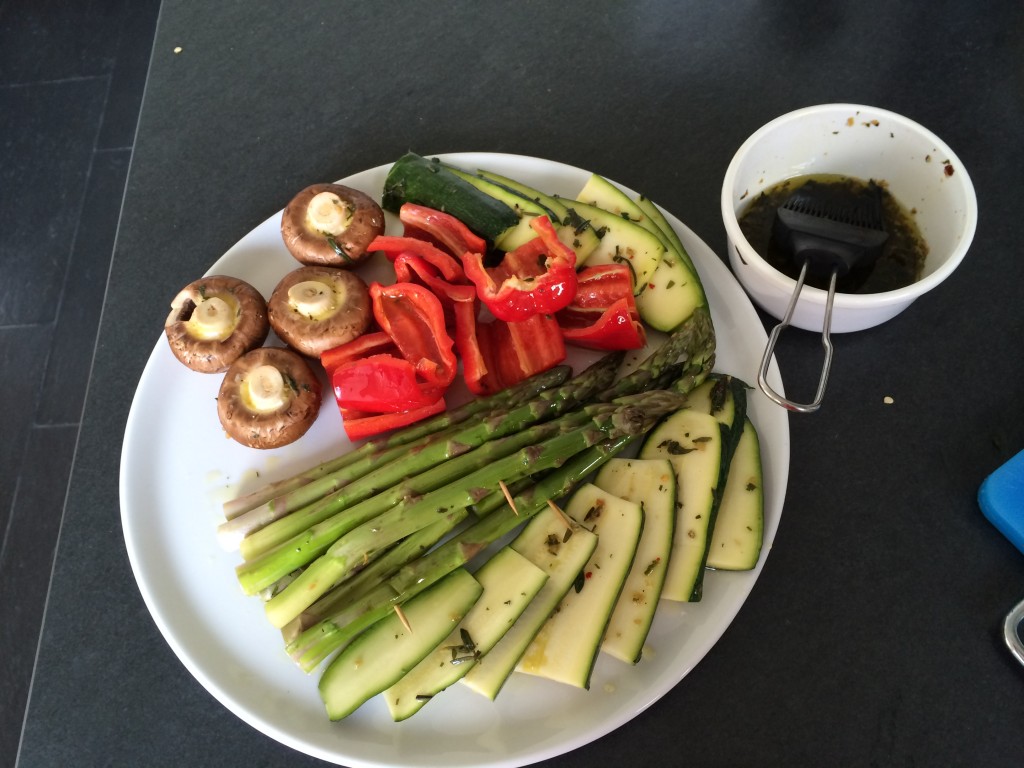 It's incredibly easy.
All you have to do, is to brush a little seasoned oil on the vegetables that you want to grill, and put it on the cooking grate.
It almost doesn't matter, which vegetables you want to use.
Most often I grill augergine, zucchini, bell pepper and button mushrooms.
But a few days ago, there was a carrot lying on my grill, finely sliced, and surprinsingly it was very delicious too.
I already tried the following, and they were very nice:
aubergine, oyster mushroom, green aspargus, carrot, bell pepper, beetroot, sweet potato, button mushroom, zucchini.
Ingredients Marinade
1 garlic clove
1 Tbsp fresh thyme, leaves picked
1 Tbsp fresh rosmarin, leaves picked
1/2 Tbsp fresh majoram or oregano, leaves picked
1/2 Tbsp fresh parsley, leaves picked
1/2 Tbsp fresh mint, leaves picked
1 fried chili
1 pinch sea salt
freshly ground pepper
olive oil
You can either chop the herbs in a food processor or by hand. Top off with a good amount of olive oil and mix well.
If you don't have all of the herbs mentioned, don't worry, just use what you have. You can also make this mariante with dried herbs, still tastes good.
I usually make a bigger batch of this herbed oil, because it keeps well in the fridge. Also you can fill up the oil as long as there are some herbs left.
To prepare the vegetables slice them according to their firmness. The firmer the thinner. Carrots can be about 3mm thin, aubergines and zucchini should be 6–7 mm thick.
Just try it out.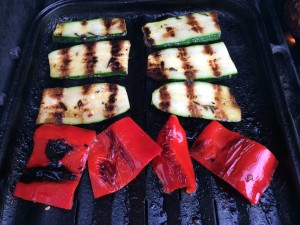 Thoroughly brush on both sides with a brush  and grill on medium heat (260°C), flipping at least once.
It's very wise to use a special vegetable tray on the grill, mine is a barbecook.
The time needed to cook depends on the type of vegetable and the thickness of the slices.
Whenever you think the vegetables are ready jut add a little bit of salt or fleur de del and that's it.