In Chile exists a quite strange drink. It is calles "Mote Con Huesillos", which translates as pearl barley with peach. Sounds like a drink? Not really I guess. And it isn't, but it also is.
It is a drink to drink, spoon and chew.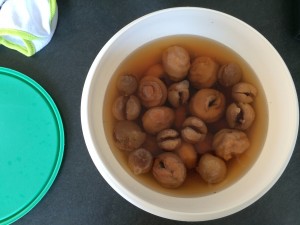 It consists of dried peaches and pearl barley, cooked in liquid, and eaten/drunken as soon as everything is chilled.
I found the original recipe in a chilean cookbook, but you can also find it on websites, e.g. here.
But I guess I did something wrong, because the ratio between solid and liquid ingredients just wasn't right. What I got was kind of a soupy compote. Very delicious, but still not a drink.
So I changed the recipe a bit, cut down the amount of the barley and the peaches and now it works better.
I've never tasted the "real" mote in chile, but I was told, that it tastes like it should taste.
The dried peaches, that you'll need for the recipe may be hard to find, here in germany it is almost impossible.
If you have the same problem, feed free to substitute dried apricots. I found some really dry ones, not the chewy kind, and they worked very well. The dried peaches have the same consistency.
This time I used a mix of aprocots and peaches, because the peaches are so rare.
Ingredients
125g dried peaches (or dried apricots)
125g pearl barley
50g sugar (e.g. brown sugar)
1/2l orange juice
1 cinnamon stick
Wash the peaches thoroughly and soak them in plenty of water for 24h. The peaches will expand a lot, so maybe you have to add more water.
Wash the pearl barley, drain and bring to the boil in 1l water (use the rest of the soaking liquid) and the orange juice. Reduce the heat to a simmer and let it cook until the barley is tender. This should take about 30 min. Stir once in a while.
When the peaches are ready to cook, drain and reserve the soaking liquid.
Cut the peaches in 1/2-inch/1 cm pieces and put them in a pot, top with the soaking liquid up to 1 cm, add the sugar and the cinnamon stick. Bring to the boil, then simmer on low heat for 10 min.
As soon as the barley is cooked, mix the peach compote and the barley and let cool to room temperature. Now put everything in the fridge and chill for at least 2 hours, or until everything is nicely chilled.