Today I am enjoying one of my summer classics. Green beans are in season now, so this salad is the choice of the day.
Al dente cooked green beans in a delicious vinaigrette made of grainy mustard, shallots and capers. Very nice.
Zutaten
5oog green beans, stalk ends removed
1 small shallot
1 Tbsp grainy mustard
4 Tbsp olive or rapeseed oil (or both)
1 Tbsp white wine vinegar
1 Tbsp white balsamico
2 Tbsp capers
1 Tbsp chives
salt & pepper
First trim the beans. You only need to cut of the stalk ends, if the tops don't look too good, snip them off. Very long beans can be halved.
Put a pan of salted water on to boil. Once boiling, boil your beans until al dente (with a bite, a little bit squeaky). This may take from 4 to 10 minutes, depending on the size of your beans. Check after 4 min and decide if they are fine.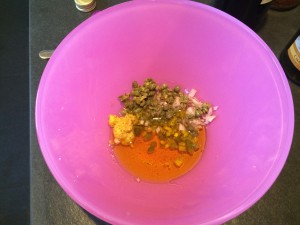 While the beans are cooking prepare your vinaigrette.
Put the mustard, oil, vinegar and the capers in a bowl and mix very well to emulgate. Season with pepper and salt to taste.
Drain the beans well, then tip the cooked beans into the bowl with your dressing and toss everything together, making sure all the beans get coated. Have a final taste and top with the chives (I usually cut them with scissors directly into the bowl). Now enjoy.