The perfect match for a nice summer day – like today – is a fresh and tasty salad.
Todays choice is a salad with chickpeas. I wanted to make one for so long, so today is the day :-)
The result is inspired by a bean salad recipe from the LEON cookbook.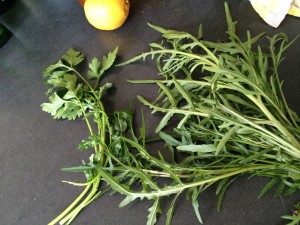 Since I planted two rucola plants in my garden two years ago, there is always enough. Now I have rucola growing in almost every corner of the herb garden.
The ingredients are plain and the salad is thrown together in no time. It is just important to let it sit for a few moments, so the flavours can develop.

That's what the finished salad looks like.
Ingredients
1 shallot or small red onion
4 Tbsp lemon juice
1–2 15 oz cans of chickpeas, drained and rinsed
2 handful of rucola
1 handful cherry tomatoes, halved or quartered
8 Tbsp olive oil
1 Tsp lemon zest
2 Tbsp parsley, minced coarsely
sea salt, fresh black pepper
First of all, cut fine dices of the onion/shallot and put these with the lemon juice in a bowl.
Marinating the onion makes it sweeter.
In the meantime prepare all the other ingredients, meaning cutting the tomatoes in half, drain and rinse the chickpeas, etc …
Finished with all the preparations, put the tomatoes and the chickpeas in the bowl together with the onion. Add pepper and salt to taste and mix well. Let it stand for 5–10 minutes so the flavours can meld.
Now add all the other ingredients, check seasoning, grate ssome lemon zest on top and tuck in.